Hans Schneider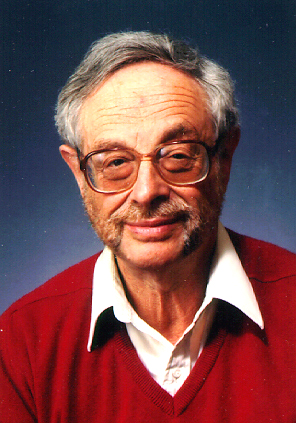 J. J. Sylvester Professor Emeritus of Mathematics

---

For a photo of Miriam and me at my grandaughter Hannah's wedding in Arizona in April 2014 while I was making a speech at the dinner, click here.

For my photo at a younger age click here.
And click to see what I really look like in 2012.
---
Click Miriam to see a picture of my wife and here's another one.
---
A Personal History
---
Last Words

   Department of Mathematics
   University of Wisconsin - Madison
   Van Vleck Hall
   480 Lincoln Drive
   Madison, Wisconsin 53706
   U.S.A.
 
   email: hans@math.wisc.edu
   homepage: http://www.math.wisc.edu/~hans
 
   office:      (608) 262-1402
   home:        (608) 833-6567
   office fax:  (608) 263-8891
 

---



   Click comments to email me your comments.



---



Click IIC for the database of ILAS (The International Linear Algebra Society) Information Center. For the ILAS linear algebra journal, click ELA.
---
My most recent graduate student (Ph.D July 2000) is Olga Holtz . Click photo for a picture of Olga and me taken in Berlin in November 2002.
---
Click LAA for LAA special issues and the referee's evaluation form. Click Science Direct for many Elsevier journals including all papers published in LAA since its inception in 1968 .
---
Click here for MathSciNet, EULER, Zentralblatt, Jahrbuch(JFM). and papers published by SIAM. All are available (and much more) from our Math Library.
---
Click CV to get my current curriculum vitae.
---
For a short (and altogether too laudatory) biography published by ELA (Preface to vol.3), click Text-file or PS-file. For other views consult ??. For a light-hearted account see short bio.
---
For the event that in all probability is the fundament of my mathematics, see 17.10.50, accompanied by a grainy photo of A.C.Aitken probably taken in 1948.
---
Click here for my papers (with thanks to Louis Deaett for scanning them).
---
My page on Helmut Wielandt
---
For some recent talks, see Talks
---
For some family information, click Family Page
---
Click here to return the top of this page.
Updated 30 March 2012 .